Bajaj Double Roller Cotton Gin
We have been awarded the "Largest and modern cotton ginning & pressing machinery manufacturer in India" by the hands of then Hon'ble Union minister of textile Govt. of India Mr. Shankersinh Vaghela.
Bajaj DR gins give highest out turn of lint with better seed quality at lowest maintenance and per unit cost of production. Similarly high efficiency Bajaj down packing cotton baling press produces highest number of bales at lowest cost per bale. We offer complete cotton ginning, pressing, cleaning, conveying and handling solutions and turn key ginning and pressing plant machinery.
Provision for Increased leather roll diameter
16 sealed / Pre greased bearings
Only two greasing points
Robust Box type beater housing for easy setting
Maximum strength to Gin upto 50 G/Tex cottons
Adequate weights on leather roll for higher production
Use of superior material for highest strength of spare parts
Highest out Turn of Lint than other Ginning System.
cleaner Seeds with minimum Cotton Linter on it.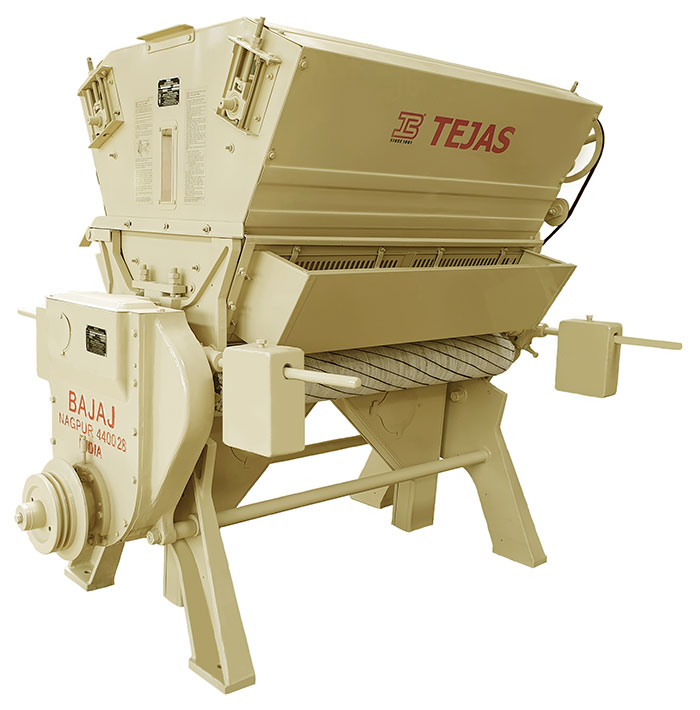 VIEW OF 54″ BAJAJ DR GIN TEJAS WITH AUTOFEEDER
About 50% lower vibration
Improved Seed Channel Design
Improved Hopper Sheet Design
Powder coating on Auto Feeder Assembly
Less Power Consumption per unit of production
One to One replacement on Jumbo/ Super / Platina models
Less man power as less greasing points
Longer wear life of leather roller
Interchangeability of spares
Significantly higher profits
Robust body
Simple operations
Lustrous lint fiber production Machine
Improved autofeeder for better performance
Prompt after sales service
Over 55000 Bajaj Double Roller Ginning Machines are operating throughout India and various other countries like Bangladesh, Egypt, Indonesia, Kenya, Madagascar, Myanmar, Nepal, Nigeria, Peru, Shri Lanka, Tanzania, Uganda, Zambia, Zimbabwe etc.
BENEFITS
Protects Fibre Quality ; Gives Production of Clean ; Lustrous Cotton Lint.
Works efficiently ; reduces cost and Adds to profitability.
Engineering experiences and expertise combined to ensure lowest operational and maintenance cost.
Consumes less power.
All gears, connecting rod, head, beater arm, swing lever etc. are made of high Nodularity ductile iron.
All rotating parts are provided with precision bearings to reduce friction for optimum efficiency.
Connecting housing is provided with heavy duty self aligning roller bearing.
Leather roller shafts are interchangeable and if one side of the roller is worn out, It can be reversed.
Lint output remains uniform on full length of the rollers.
Moving parts are housed in dust proof gear box for smooth running.
Lubrication is pressure fed, dust proof greasing system.
Special hardened bushes for weight levers and swing levers to ensure smooth working of gin.
Over 55,000 gins are in efficient operation in India & Abroad.
Fully backed by after sales services, provided by team of trained and Competent engineers.
High quality replacement parts and spares available at all times.
FEATURES
Lowest power consumption per quintal lint ginned
Fully machined fly wheel / machine pulley
All rotating parts are precision machined using advanced manufacturing process on CNC machines providing best finish & Tolerances to provide enhanced life of the machine & lowest down time.
Mechanism requiring lower periodic maintenance & setting of the machine.
OPTIONAL SUPPLY
Templates, Foundation Bolts, Motor rails, Motor pulley, Guard for pulley, V-Belts, Seed Screw Conveyor, Roll Press, Roll Cutting stand, Cotton bag, Weighing stand, Lint Filling Platform, Bus bar Panel with all required Fittings, Platform Structure, Complete range of spares, Doffer Roller Assembly, Electrical Motor & Electricals.
TECHNICAL SPECIFICATIONS