Bajaj Double Roller Cotton Gin
We have been awarded the "Largest and modern cotton ginning & pressing machinery manufacturer in India" by the hands of then Hon'ble Union minister of textile Govt. of India Mr. Shankersinh Vaghela.
Bajaj DR gins give highest out turn of lint with better seed quality at lowest maintenance and per unit cost of production. Similarly high efficiency Bajaj down packing cotton baling press produces highest number of bales at lowest cost per bale. We offer complete cotton ginning, pressing, cleaning, conveying and handling solutions and turn key ginning and pressing plant machinery.
Robust Body
Simple Operations
Easy Maintenance
Interchangeability of Spares
Lowest Power Consumption
Higher Output
Higher Profits
Highest out Turn of Lint than other Ginning System.
cleaner Seeds with minimun Cotton Linter on it.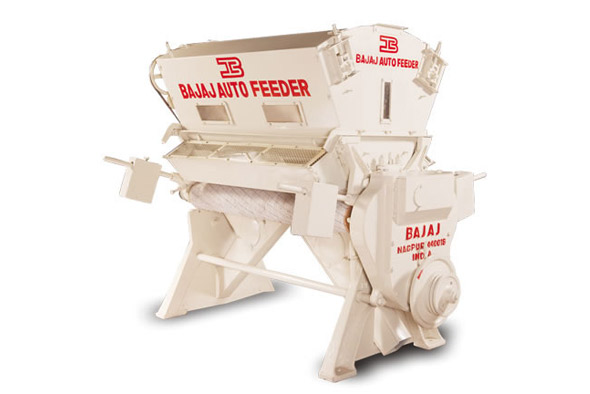 View of Bajaj DR Gin with Autofeeder
Over 55000 Bajaj Double Roller Ginning Machines are operating throughout India and various other countries like Bangladesh, Egypt, Indonesia, Kenya, Madagascar, Myanmar, Nepal, Nigeria, Peru, Shri Lanka, Tanzania, Uganda, Zambia, Zimbabwe etc.
BENEFITS
Protects Fibre Quality ; Gives Production of Clean ; Lustrous Cotton Lint.
Works efficiently ; reduces cost and Adds to profitability.
Engineering experiences and expertise combined to ensure lowest operational and maintenance cost.
Consumes less power.
All gears, connecting rod, head, beater arm, swing lever etc. are made of high Nodularity ductile iron.
All rotating parts are provided with precision bearings to reduce friction for optimum efficiency.
Connecting housing is provided with heavy duty self aligning roller bearing.
Leather roller shafts are interchangeable and if one side of the roller is worn out, It can be reversed.
Lint output remains uniform on full length of the rollers.
Moving parts are housed in dust proof gear box for smooth running.
Over 55,000 gins are in efficient operation in India & Abroad.
Fully backed by after sales services, provided by team of trained and Competent engineers.
High quality replacement parts and spares available at all times.
OPTIONAL SUPPLY
Templates, Foundation Bolts, Motor rails, Motor pulley, Guard for pulley, V-Belts, Seed Screw Conveyor, Roll Press, Roll Cutting stand, Cotton bag, Weighing stand, Lint Filling Platform, Bus bar Panel with all required Fittings, Platform Structure, Complete range of spares, Doffer Roller Assembly, Electrical Motor & Electricals.
TECHNICAL SPECIFICATIONS
Model

Jumbo

Extra long

Special/
Standard

Flat Length

1361 mm

1191 mm

1061 mm

Production capacity (Lint)*

65 to 105
Kgs./Hr

50 to 95
Kgs./Hr

40 to 70
Kgs./Hr

Processing Capacity (R/C)

200 to 265
Kgs/Hr

160 to 225
Kgs/Hr

125 to 175
Kgs/Hr

Electric Motor

5 H.P.
132 S Frame

5 H.P.

5 H.P.

2357 mm

2187 mm

2057 mm

M/C Bolt Centre

1477 mm x
760 mm

1307 mm x
760 mm

1177 mm x
760 mm

Space b/w Row (min. c/c)

3660 mm

3660 mm

3660 mm

Operating Speed

950 /1000
RPM

1000/1040
RPM

1000/1040
RPM

Driving V-Belts

2 Nos. 'B'
Section

2 Nos.
'B' Section

2 Nos. 'B'
Section

Bearings

21 Nos.

19 Nos.

19 Nos.

Lubrication ( Grease )

150 Gms/
8 Hr

150 Gms/
8 Hr

150 Gms/
8 Hr

Gears


Planetary /
Helical

Planetary /
Helical

Planetary /
Helical

Seed Discharge

Slides /
Conveyor

Slides /
Conveyor

Slides /
Conveyor

Removal of Cotton Lint

Front & Rear

Front & Rear

Front & Rear

Min Distance B/w M/c

880 mm

880 mm

880 mm

Rotation of Driving Pulley

Any Direction

Any Direction

Any Direction